Mission Statement 
To provide an opportunity for learning, recreation and personal growth for all the people who use the library.  To apply traditional expertise and changing technology towards equal access to quality library services, materials and facilities.  
Board of Trustees 2022:
The Springport Free Library Board meets every 3rd Wednesday, Monthly at 6:30pm.  The meeting is open to the public.  
Board President:  Christy Cooper (term expires 01/24)
Vice-President: Laurie Waldron (term expires 01/24)
Financial Officer:  Robin Greer (term expires 01/24)
Recording Secretary:  Barbara Casper (term expires 01/27)
Trustee:  James Young (term expires 01/27)
Trustee: Jeanne Hardy
Bookkeeper:  Scott Zippel
Springport Free Library at a Glance 2021
30,533 Grand Total Circulation
2,555 Wireless Sessions
Provided By Library Wireless Service
17,340 Visits to the Library Website
880 Library Card Holders
Please join your public library and enjoy the many programs we offer throughout the year!  We are your doorway to public information services, technology and community!
A Brief History of the Springport Free Library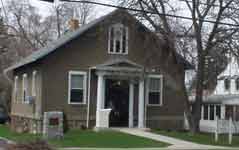 In 1898, a small group of civic-minded people formed an organization. The first meeting of the Trustees was held on October 24, 1898, and Union Springs' first library was established in a single reading room above a village business. This room was open every evening and three afternoons a week. In November of the same year, an application for a State Charter was sent to Albany, and the next month the State Inspector of Public Libraries, approved the library, and declared that "a haven of refuge had been established." In 1902, the library was given a State Charter and the name Springport Free Library.
The next step was for the Springport Free Library to move into its own building. So on June 15, 1910, the Library Association bought the Quaker Friends Meeting House for $450. Renovations were needed, and several fund raisers were held to raise the necessary funds, including concerts, lectures, and suppers. When the renovations were finished, volunteers moved in the furniture and books, and in a mere two days, everything was ready for the grand opening.
On December 31, 1910, the library was formally opened to the public, complete with an afternoon tea. The library became a charter member of the Finger Lakes Library System in 1958. Now the resources of all the libraries were open to the patrons of each library, and professional assistance was granted so that book, record, and painting collections became available.
"The years roll by and the tempo of life quickens. But the Springport Free Library still opens its doors to welcome residents of the area, as well as all who pass by….to enter, to pause, to read, and to continue on, refreshed and inspired."
From the Bicentennial History of Springport and Union Springs, New York 1976.